5 Reasons to have your wedding at Villa Mercedes Ibiza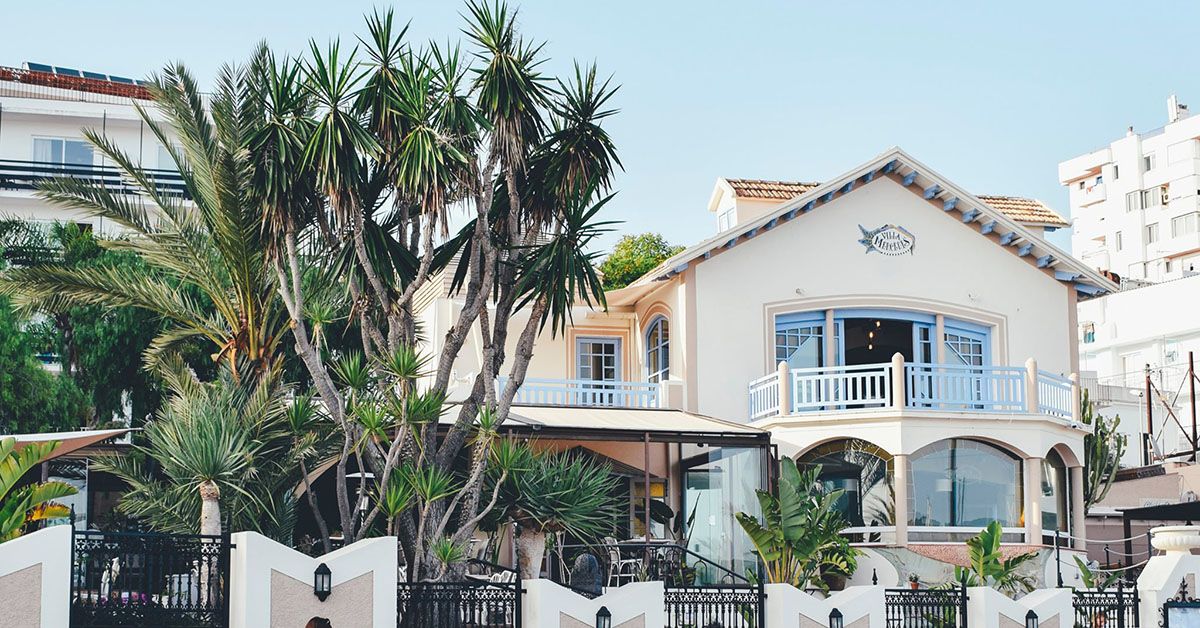 We know it's not easy to choose a venue for your wedding in Ibiza, but that's why we want to share with you five reasons that make Villa Mercedes the perfect place for your big day. We'll start by telling you one of the reasons straight away: It's one of the most romantic restaurants with a garden in Ibiza!
On the promenade of San Antonio, Villa Mercedes has the charm of the grand old summer villas from the early 20th century. Built in 1901, this special spot with a view of the marina, embodies all the enjoyment and celebration of the old summer mansions, where the coolness of the garden and the gentle sea breeze on the terraces encouraged you to relax, enjoy lengthy meals and make the most of the long summer days. A unique setting to make your dreams for your big day come true.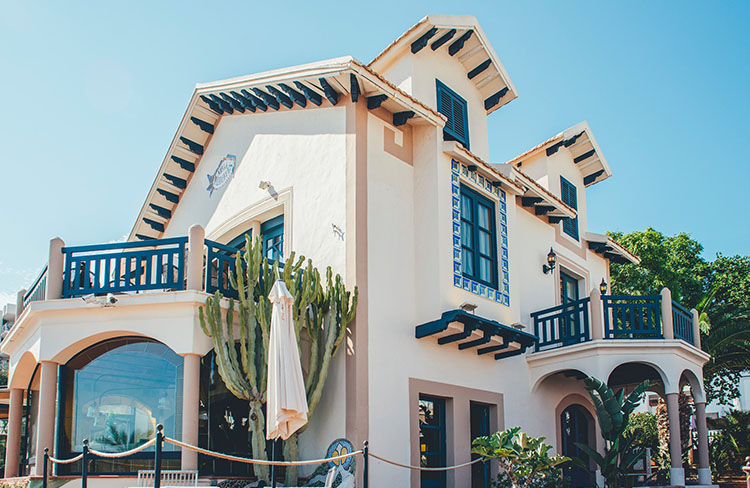 Reasons to choose Villa Mercedes for your wedding in Ibiza
We'll now introduce five good reasons to celebrate your wedding with us, but you're bound to find more when you come and visit us.
A romantic, elegant and very special restaurant
Villa Mercedes is a very special place in San Antonio as it's one of the few centenary summer villas left in the town. Its beautiful façade enhanced by terraces with a balustrade stands out on the promenade surrounded by a quaint garden that brings together tropical and Mediterranean species and offers cooler mornings and nights. And we mustn't forget our river-fountain, which is a tribute to the water mill standing at the end of the garden, the only one that remains in the town. So, it's a very special place indeed, with over a century's worth of history, where memories are built with great love and care.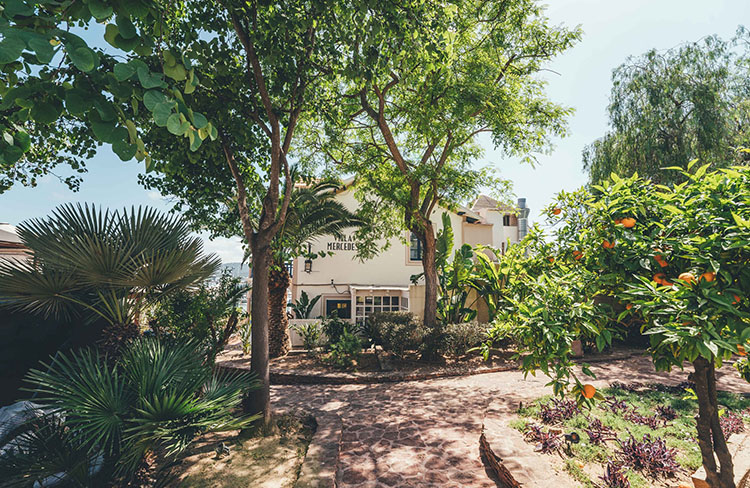 The perfect place for small and medium weddings
There are more and more couples who decide to celebrate their wedding with only the closest friends and family, pushing aside the custom of inviting distant relatives and acquaintances. That's what makes small and medium weddings so special. Villa Mercedes loves to host this type of weddings, as they keep the joyful celebratory spirit and help the newlyweds to relax and enjoy their big day with their guests. If you also want a small wedding or one with up to 150 seated guests, talk to us. In our garden and rooms, you can celebrate both the banquet and the ceremony, and have live music or a DJ session to liven it up.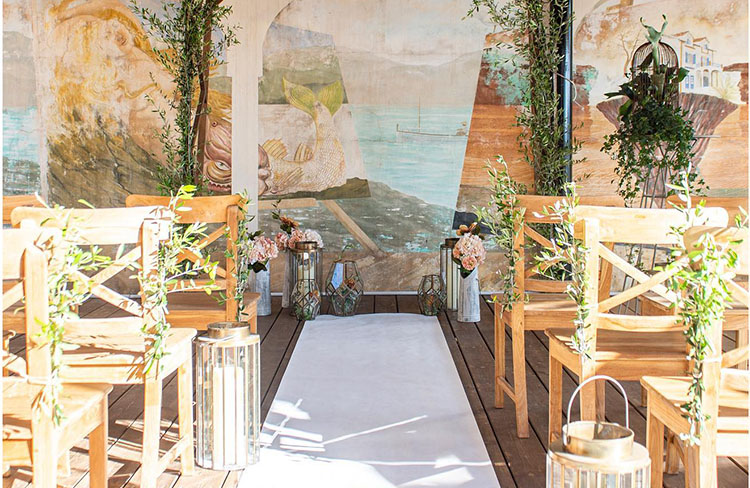 Forget about transfer arrangements
In the heart of San Antonio promenade, your guests will find accommodation easily in the many hotels in the town and its surrounding area, so you won't need to make any transfer arrangements. A few minutes' walk from Villa Mercedes you'll find several 4-star hotels and a short taxi drive will take your guests to 5-star hotels or other unique hotels, like Hostal La Torre and Las Mimosas Ibiza.
Ceremony with a view of the harbour and bay of San Antonio
Our garden has several spaces to organise a ceremony, with either the garden or the sea as the backdrop. Depending on the guest count, we'll recommend the most optimum distribution so that neither you nor your guests will miss a thing of the ceremony. And for the cocktail, there are plenty of charming spots to enjoy a drink and appetisers while you take the first pictures with friends and family.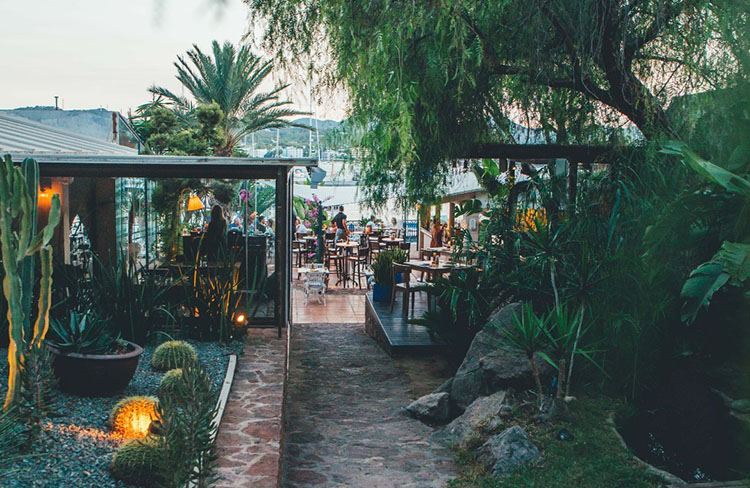 Bespoke wedding planner servic
Villa Mercedes will be happy to help you with all you need for your wedding day through the Mambo Weddings services, with wedding planner Lucy Dyer at the helm. Lucy has over 15 years' experience organising weddings in Ibiza and has been living on the island for over 25 years. You decide what you need, if only someone to coordinate things on the wedding day or also help with all the preparations for the wedding, including choosing suppliers. Our Bronze, Silver and Gold packages will fit your needs, whether you need a lot of help or only a little. We'll be wherever you need us.
Top-level catering
We're not alone at Villa Mercedes: we're part of Grupo Mambo, an Ibizan business that specialises in restaurants and accommodation with nearly 40 years of history. Our passion for food and our long experience in customer support guarantee that your wedding catering will be a complete success, offering a carefully thought-out selection of contemporary Mediterranean proposals and other creations with a touch of fusion cuisine. And we can't forget our wonderful list of wines, cava and champagne to pair perfectly with the menu you choose.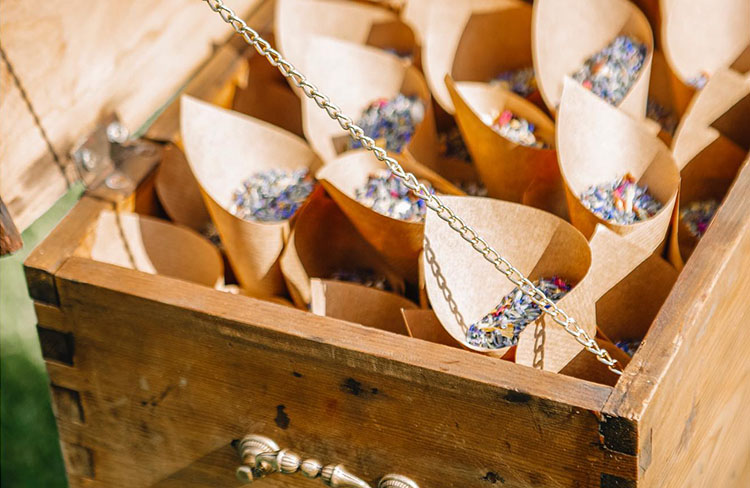 Contact us and celebrate your wedding in Ibiza at Villa Mercedes
We're pretty sure that these reasons have helped you decide where to celebrate your wedding in Ibiza. If you think Villa Mercedes is the perfect place for your big day or if you're still doubting if our romantic restaurant in San Antonio is the perfect place for your wedding, contact us and we'll help you with anything you need. Call (+34) 971 803 383 or email This email address is being protected from spambots. You need JavaScript enabled to view it. and let the magic and romanticism of Villa Mercedes do the rest.