Gastronomic Flair And Flamenco At Villa Mercedes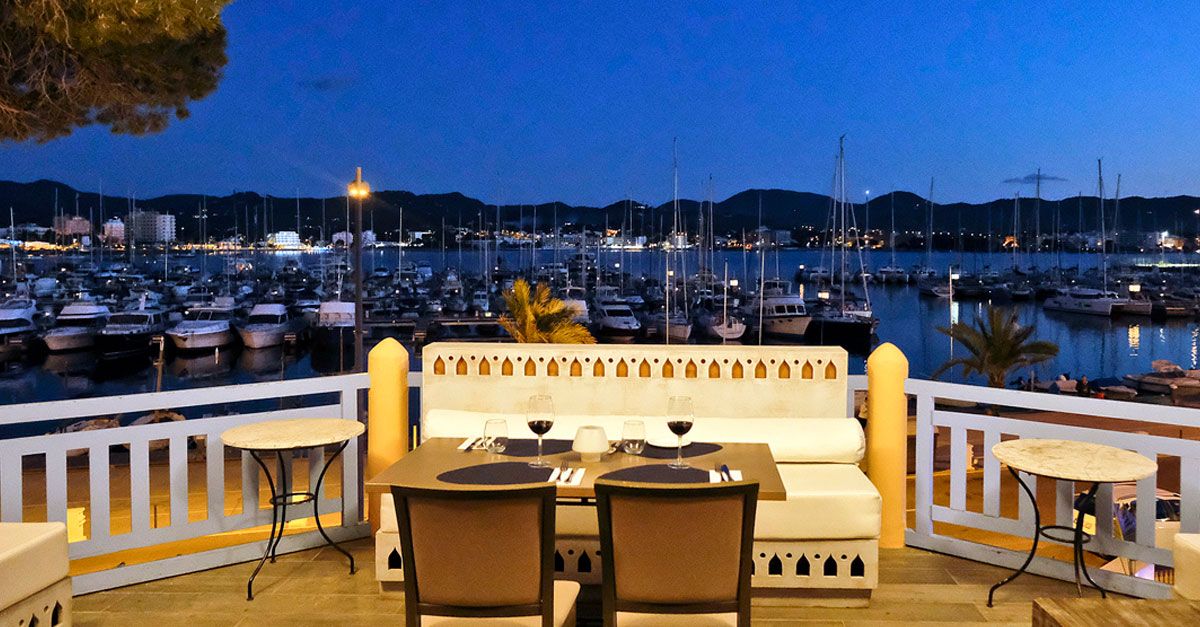 Strolling along San Antonio's Marina, the stunning façade of Villa Mercedes is a reminder of times gone by. Offering delicious Mediterranean food, sophisticated cocktails and weekly live music from celebrated flamenco guitarist, Paco Fernandez, it promises all the ingredients for a perfect summer's evening. Keen to sample the latest menu and enjoy the sounds of some Balearic flamenco at its best, we reserved ourselves a table at this treasured spot.
Originally built in 1901, this historic villa is now the home of one of Ibiza's favourite restaurants. The tiered alfresco terrace of this romantic venue is adorned with candlelit tables and surrounded by a secret garden, large chill out area and Moroccan inspired décor. Whether you choose to dine with a frontline view of the stunning marina or opt for a table tucked away on the Balinese inspired terrace, the friendly staff provides a warm and welcoming service to couples, families and larger groups. This beautiful place treats its visitors to a truly authentic Spanish ambience making Villa Mercedes a much sought after destination on the west side of the island.
The enticing cocktail list makes choosing difficult. The frozen 'Coconut Daiquiri' combining rum, coconut water and lime is a refreshing option at any time of the day or night. The Balinese inspired 'East meets West' is a warm and spicy blend of rum, ginger, lemongrass and lime. And for those with classic tastes, we recommend the fresh and fruity 'Passionfruit Mojito', a perfect start to any evening.
The Mediterranean menu comprises a mix of tapas, fresh rice and pasta dishes, sophisticated salads, fresh fish and meaty classics. Embracing the Spanish approach to dining we ordered some sharing starters including a creamy burrata with locally sourced cherry tomatoes, strawberries, basil and pine nuts. This light, fresh dish was balanced perfectly with the Japanese styled red tuna tartar infused with yuzu and served with seaweed toasts. Any visitor to Ibiza knows that no dinner is complete without a platter of light and crispy chipirones, the traditional appetizer of squid served with homemade tartar sauce, or perhaps some succulent crunchy prawns with a sweet chilli dipping sauce. Yes, we were hungry and at risk of peaking too soon!
The stresses of the day had already melted away and Paco Fernandez soon took to the intimate stage to charm diners with his unique fusion of contemporary electronica and the mastery of flamenco guitar. To experience such a performance in this perfect setting is something of a fairytale. Throughout the evening diners were spellbound as the music took us on a musical journey through sultry, mysterious moods to vibrant, energetic beats.
As our main courses arrived to the table our focus momentarily returned to our hungry appetites. Iberian pork loin with sweet potato mash and caramelised apple sauce is understandably a firm favourite on the menu. Thinly sliced pork on the silky smooth potato puree, this speciality dish was exquisite. Another local delicacy of grilled octopus was presented on a bed of smoked white potato with a delicately spiced red mojo. Those looking for a vegetarian option will be delighted with the classic risotto cooked with Gruyere cheese and served with fresh asparagus and lemon zest.
You may not think you have room for dessert until you see other diners around you tucking into the sweet homemade treats. If you struggle to choose, why not leave it to the chef who will put together a stunning selection of puddings to share? Our indulgent platter included lemon curd and cream cheese mousse in a filo pastry, an Argentinean caramel volcano (a warm rich caramel tart with ice-cream accompaniment), red fruit cheesecake and apple strudel. Planning our gym sessions for the following day we washed down our desserts with a glass of local hierbas, locally made especially for the restaurant.
Having enjoyed an incredible dinner we were in no rush to leave so remained seated to join the other appreciative diners in enjoying the remainder of the musical soiree. Vila Mercedes is the venue for other musical events and is also hosting a special dinner on 24th August for the evening of fireworks as part of the fiesta of San Bartolomeu. Booking in advance is recommended!