Drinks in San Antonio?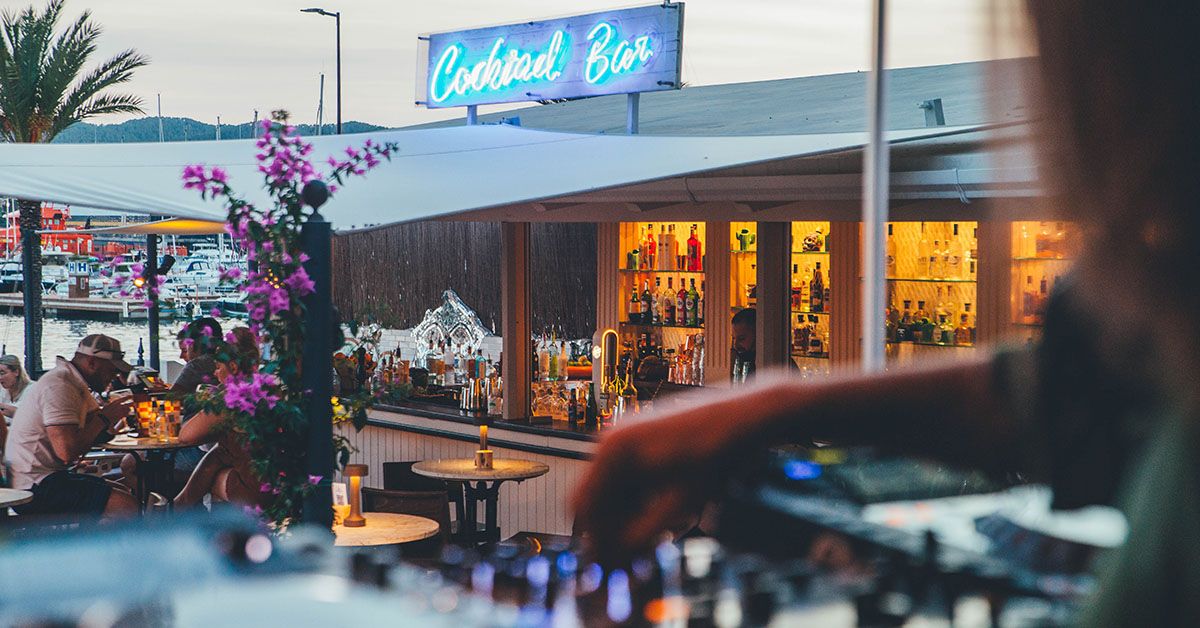 If you like to kick the night off with a cocktail, check our choice of bar terraces, restaurants and cafés with great atmosphere for drinks in San Antonio this summer. By the sea, on the promenade, at sunset, with DJ sessions... Which will be your new favourite place in Ibiza?
Restaurants in San Antonio for dinner and a drink
There's times when you're so comfortable after dinner that you can't be bothered to move place. For these occasions, we suggest these charming restaurants in San Antonio that are perfect for the first and even second drink...
Café Mambo
The San Antonio promenade, especially the area called Ses Variades, boasts some of the best terraces to spend the night, from sunset till the early hours, such as Café Mambo. This iconic cafe in Ibiza is great to start the evening watching the sunset and then have dinner and drinks in its unique atmosphere at the beat of some of the best DJ sessions. But obviously it's also fantastic if you're going after dinner in search of the first cocktails.
Mint Lounge
This restaurant-café is next to Café Mambo and is also a great place for the sunset-dinner-drinks combo. If you don't know it yet, you'll love it for its carefully chosen menu of pizzas, pasta, salads and meat and fish dishes.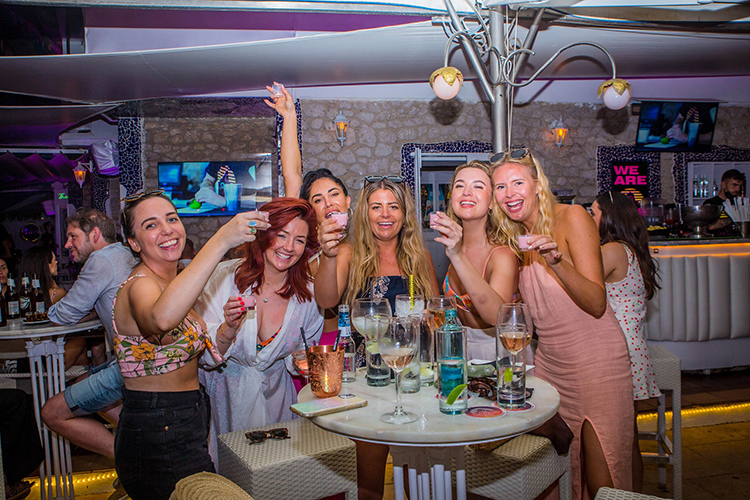 Nights are always fun at Cafe Mambo. © Grupo Mambo

BayBar
Another brilliant option for dinner and drinks in San Antonio until well after midnight. It's on the promenade, opposite s'Arenal beach. Here you can have a relaxed drink while you watch people go by.
Hostal La Torre
The restaurant terrace in this boutique hotel is only a few minutes away from San Antonio and is perfect for a lengthy dinner given its fabulous cocktail list. In fact, here you can start off by watching the sunset, then have a delicious Med-style dinner and finish off with drinks and a view of the sea and Sa Conillera island (even better if there's a waxing moon or full moon).
Sunset, music and a cocktail: the best plan at Hostal La Torre. © Grupo Mambo
Palapa
Do you like hot food and tequila? Don't miss Palapa Ibiza on the promenade, by the fishing harbour. You can have dinner based on Mexican food, enjoy live music depending on the date, and start the night with good tequila or another cocktail..
Savannah
Also on Sunset Strip, you can have dinner with a view of the sunset and a drink on the terrace, but you can also keep the night beating without leaving San Antonio in the Savannah Backroom. You'll find people from different countries wanting to have fun.
Villa Mercedes
Our garden is ideal for dinner followed by drinks, or to keep the night alive after dinner elsewhere, as it has its own lounge area. With friends or your partner, you'll love Villa Mercedes for its relaxed atmosphere, music –DJ sessions or concert, depending on the day– and its fantastic cocktail list. And if you also want to have dinner, there's mouth-watering Med dishes to start the night off with a fabulous taste in the mouth. If this sounds good, book directly from our website or call (+34) 971 348 543.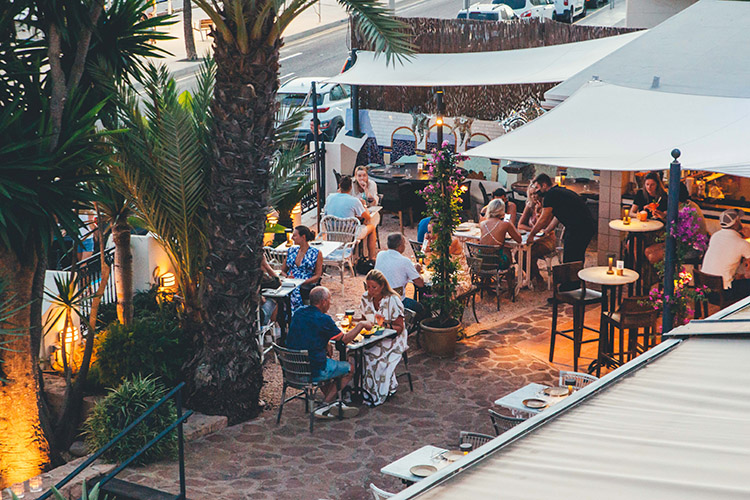 Just a drink or a dinner plus a cocktail. Every choice is perfect if your are at Villa Mercedes © Grupo Mambo
Pubs and bar terraces in San Antonio for drinks
For those times when you're wandering around and asking, where do we go for the first drink?
Tulip Ibiza
On the promenade, opposite S'Arenal beach, you can have your favourite drink or cocktail in a relaxed and pleasant atmosphere overlooking San Antonio bay.
El Refugio
If you're looking for a local feel and live music, this old San Antonio club reopened its doors a few years ago. Here you can kick off the night and keep it going until the early hours. It's in the West End and, if you like dancing to the good old rock and pop songs, this is the place.
Bamboo Bar
At the end of the promenade, by Caló des Moro, this bar with bamboo-covered walls is perfect for a few beers (they have a wide range) in a relaxed atmosphere with Reggae music and a game of billiards. Remember this place if you don't want to stay up too late and prefer to make the most of the next day.
How about you have a drink with us tonight? We are waiting for you at Villa Mercedes.. © Grupo Mambo