Musical nights at Villa Mercedes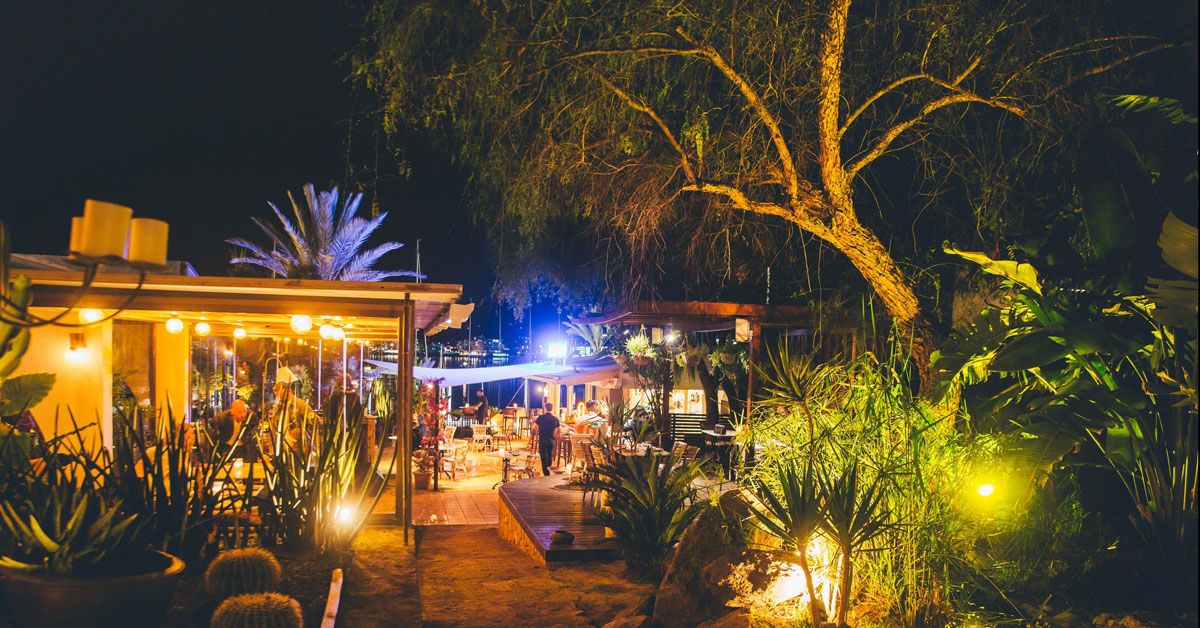 One of the best places in San Antonio for a drink before or after dinner is Villa Mercedes. It will become one of your favourite restaurants on the island with its wonderful Mediterranean food, fabulous cocktails and the amazing atmosphere of our musical nights.
Summer nights are so special that they often become precious memories that we recall when the winter comes and it's time to sit inside away from the cold. The sea breeze, the sweet scent of night jasmine, the hypnotic flicker of a candle on the table, the pleasant temperatures that make us want to stay up for longer, lively chats with friends... Dinner overlooking San Antonio harbour enjoying delicious Mediterranean food is always a great plan at Villa Mercedes but if it's comes with the music sessions that begin as the sun sets, then it's absolutely perfect.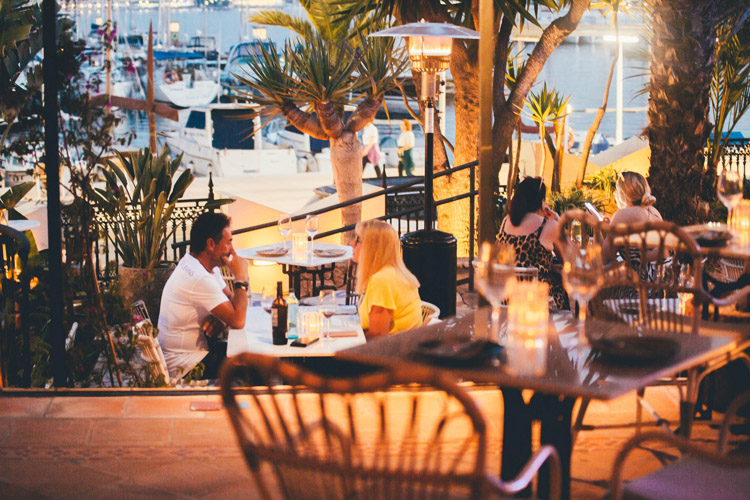 Dinner with music in Ibiza
Live music: Under the Stars

This summer, if you want to have a drink in San Antonio or enjoy a special, unique dinner, book a table at Villa Mercedes for a Sunday night, when tequila Patrón reveals its character at the Under the Stars event. Have a margarita or any other tequila-based cocktail and let your feet tap away at the rhythm of the musical show livening up our Sunday dinners.
If you don't want to miss this amazing dinner with concert plan during your holidays in Ibiza or you'd like to finish the week off with a special plan, come to our Under the Stars event on a Sunday from 9 p.m. Book today on our website or by phone (+34 971 348 543) and keep up to date on our musical calendar on our Instagram and Facebook.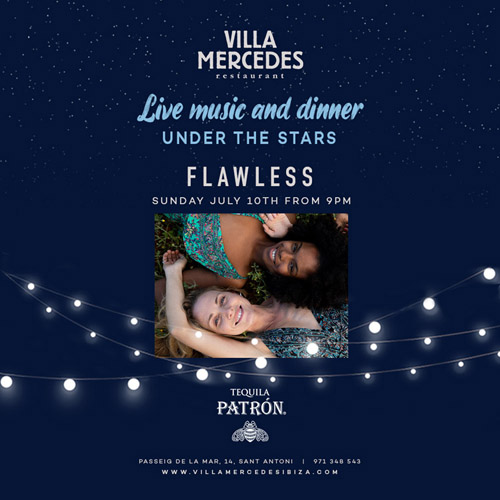 Balearic Sound music sessions

The garden of our hundred-year old villa is the best stage for a fabulous dinner or drinks outdoors with a view of San Antonio harbour. You can have dinner or drinks in the cocktail bar area while you listen to the best sessions of the island-born Balearic Sound music. We're open every evening.
You haven't yet come to Villa Mercedes?
Villa Mercedes is a summer mansion that was built in 1901 and sits in the middle of a wonderful garden with Mediterranean and tropical plants. On San Antonio promenade and with a view of the marina, this is the perfect choice for a romantic dinner or a gathering with friends and family.
Villa Mercedes' menu is based on Mediterranean ingredients and recipes, with grilled meat, fish, vegetarian side dishes and tempting desserts. If you don't want to risk missing the chance of having dinner here during your holiday in Ibiza, don't forget to book a table now on our website or by phone (+34) 971 348 543.