20 Plans in San Antonio for August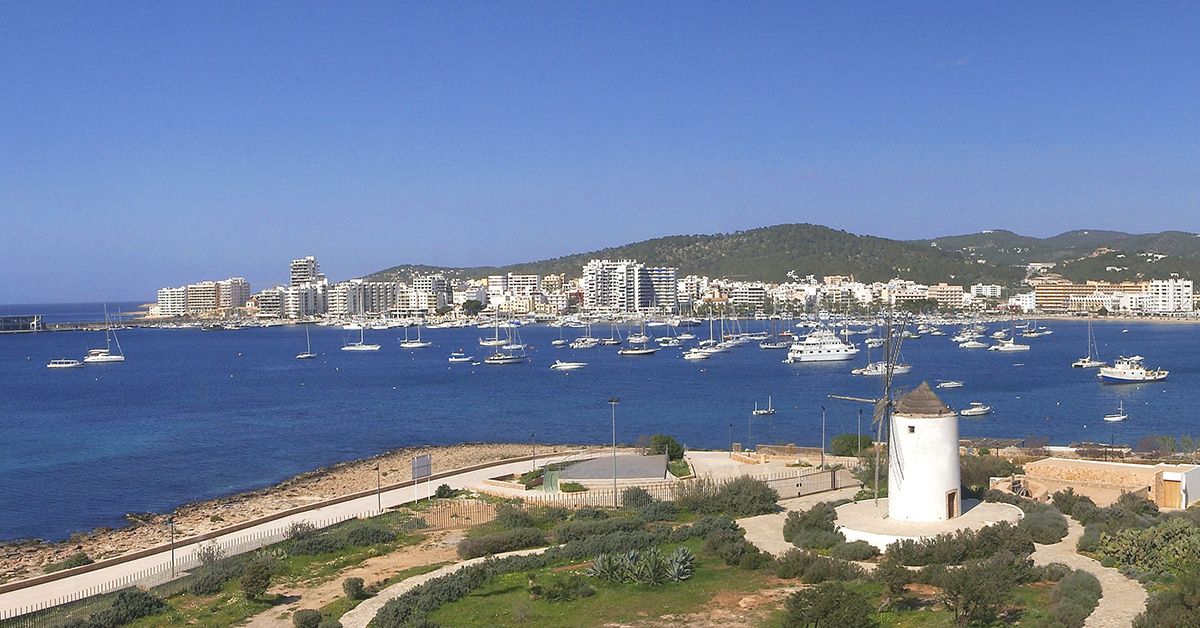 August is the busiest month in the summer and it's full of plans to do in San Antonio. Here's a list of our suggestions to help you make the most of your holiday. We want to save you time browsing plans. You simply have to pick the ideas you most like from our list. ❤️✔❌✔❤️.
What to do in San Antonio in August?

Unless you're an early riser, we're giving up walks and bikes this month in favour of the many water sports and activities available in Portmany bay if you have an active and sporty spirit. However, we suggest you also explore inland by scooter, car or quad bike to discover the culture and Ibizan traditions in this municipality. And at night, San Antonio has masses of restaurants for all tastes, from the most romantic to the most adventurous seeking exotic bites.
Day plans in August

Sailing alone with or without qualifications
August is perfect to hire a boat and enjoy the crystal-clear waters on the western coast of Ibiza If you've never sailed, don't worry, because you can hire small motorboats that you can handle without a skipper qualification in Sant Antoni. If you'd rather go further out than the bay, you can hire a boat with skipper and explore the Ibizan coast on a sailing boat, a yacht or a super yacht. Lanchas Ibiza has the most suitable option for your day out on the water.
Bullit de peix in Can Pujol
This restaurant on the other side of the bay is very popular among Ibiza's locals who come to relish their delicious rice dishes, grilled fish and famous bullit de peix. This two-course fish meal is typical on the island and includes tasty fish stew followed by arroz a banda (rice cooked in fish stock with cuttlefish).
Paddle surf along the coast
August is a good month to get away from all the crowds on the shore by getting atop a paddle surf board exploring hidden spots on the beautiful Sant Antoni coastline. And if you haven't yet tried this activity, there are several businesses on the bay that will teach you, like Aloha Paddle surf.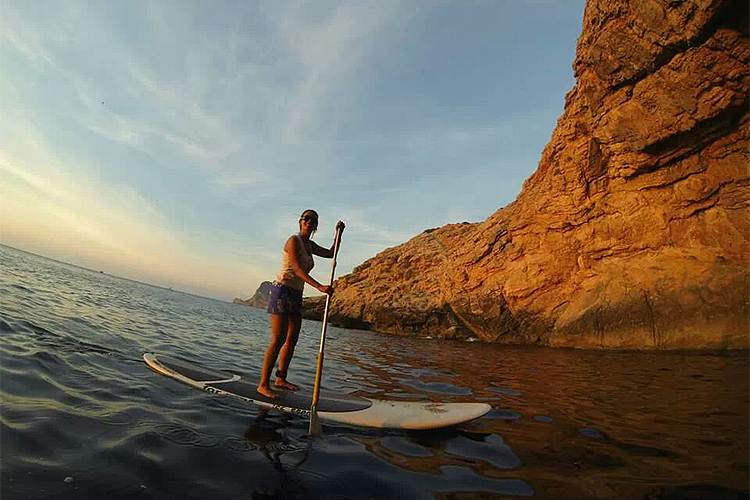 Paddle surf in west coast. © NC
Spend the day at Cala Gracioneta
This small cove adjacent to Cala Gració has everything for you to enjoy a day by the sea: crystal-clear waters, a walk along the coast, a stunning landscape and delicious Mediterranean food at the beach bar named after the cove.
Explore Sant Antoni inland on a quad bike
Hire a quad bike from Emove Ibiza and explore the forests, vineyards and quiet valleys that are only a few miles from the village centre. You'll love it!
Play a plant piano
Come to Ibiza Botanico Biotecnológico and discover the most innovative botanical gardens in Europe, where you can interact with plants, drink water collected directly from steam from the atmosphere and learn how photobioreactors work.
Pool day at Las Mimosas
Enjoy a fabulous relaxing day with Las Mimosas Day Pass at this quaint boutique hotel located in a quiet spot in the bay where you can also enjoy pool sessions from Friday to Sunday.
Pool day at Las Mimosas. © Grupo Mambo
Sail on a solar-powered catamaran
Explore Ibiza's coast in a sustainable way on one of the boats chartered by La Belle Verde. They have four solar-powered catamarans!
Rent a jet ski
Portmany bay is one of the places in Ibiza where jet skis are allowed. You can hire this experience from several authorised businesses or go for other equally fast options: water-ski, jet surf, twister jet, seabob, scubajet...
Free guided walk
Discover the most beautiful spots in Sant Antoni, its urban art and the sunset with Free Tour Sant Antonio giving a 2.5h tour. URBAN ART and Sunset in a fishing village in Ibiza.
Sign up for a PADI Open Water
Learn to dive with Arenal Diving during your holidays in Sant Antoni in August and get a certificate to dive freely up to 18m deep worldwide.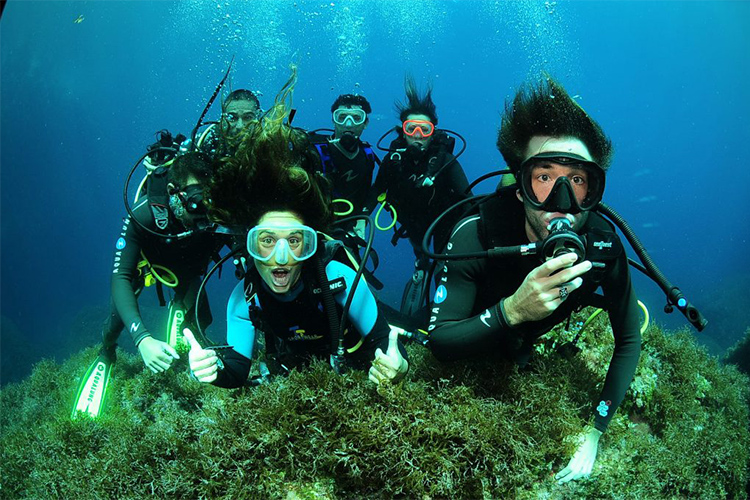 A PADI course? © Arenal Diving
Evening and night plans in August
Grilled sardines at the Cap Blanc Aquarium
On Saturday and Sunday evenings, you'll be tempted by the smell of grilled sardines at the Cap Blanc Aquarium, a small aquarium with native species and a rustic air near Cala Gració. Book in advance if you don't want to miss out.
A night at the Pikes
The iconic Pikes Ibiza hotel hosts exciting parties practically every night. Check their list of events for August and choose the one that best fits your style. A suggestion? Monday nights you get to dance to DJ Harvey's sessions.
Welcome the dark at Café Mambo
Another must-do in August in Sant Antoni is to watch the sun go down from the terrace of Café Mambo, where you will enjoy the sunset with the most popular DJs. Other establishments on Ses Variables avenue you'll also love are Savannah Ibiza and Mint Lounge.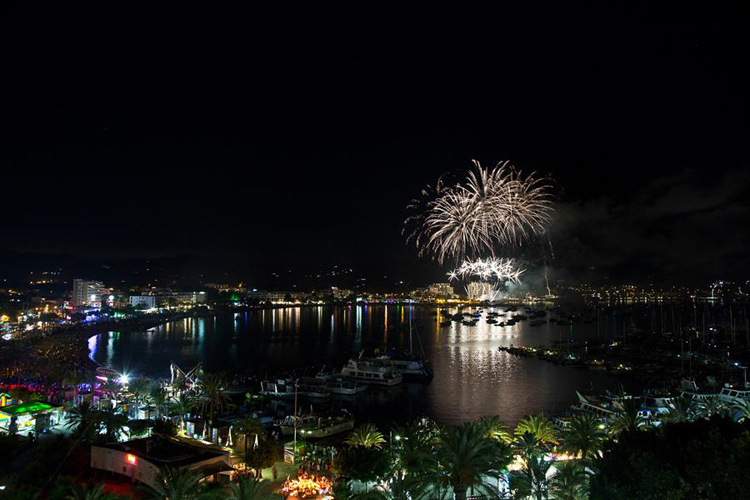 Sant Bartomeu's fireworks. © Visit.santantoni.net
Join the fiestas of Sant Bartomeu
Sant Antoni celebrates its local fiestas in August, so your visit is bound to coincide with some of the many events organized for the festivities. We're sure you'll love these two outdoor concerts: La Movida II Bartomeu Fest (13th August, 9 p.m.), with songs from the 80s; and the popular Ibizan band Ressonadors (24th August, 9.30 p.m.)
Firework display at Villa Mercedes
August nights are perfect for a romantic dinner in Villa Mercedes's garden, even more so on 24th August, the most important day in the local fiestas. Book today a table at our restaurant and enjoy the famous firework display that will light the bay at midnight: from our website or call (+34) 971 348 543.
Watch the sunset from Hostal La Torre
Book a table on the terrace at Hostal La Torre and enjoy a magical sunset at the beat of the best Balearic Sound music with a view of Sa Conillera. You can drink refreshing cocktails before a delicious dinner with Mediterranean food. You can now book by WhatsApp too! +34 690 25 62 91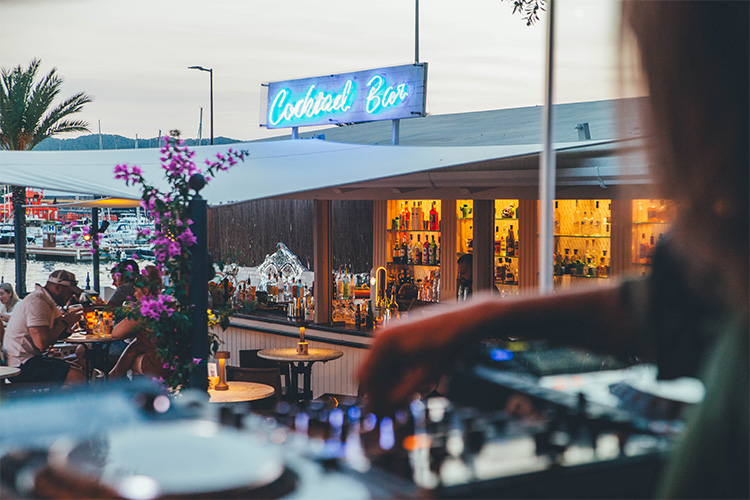 Do you fancy a cóctel at Villa Mercedes? © Grupo Mambo
A musical evening by the church
As part of the musical cycle called Nits Amples d'Estiu, there will be a piano and saxophone concert called Sax & Love next 14th August, at 9.30 p.m. It's free and it will be held in the outdoor auditorium by the church.
Parasailing as the sun sets
Enjoy an amazing sunset from the sky and get a bird's-eye view of Portmany bay and the islets of Ponent. A fabulous experience to admire the famous sunset of Sant Antoni in a unique way.
Delicious, refreshing cocktails
While the sun sets or after dinner, there are many places to have a drink in Sant Antoni. Like for example, our very own cocktail bar, or other pleasant places like Hostal La Torre, Savannah Ibiza, Boni and Es Verro.
Main picture: © visit.santantoni.net