Interview with Iván Acquista, head chef of Villa Mercedes
His stints at Heart Ibiza, W Verbier, Casa Jondal, Ocean Drive and Belmond have marked the rising career of Iván Acquista, our new Executive Chef. His passion for finding the best ingredients and a minimalist technique set apart his gastronomic proposal, designed to make Villa Mercedes one of the leading restaurants in San Antonio, as the best restaurant in the bay to pair quality food with live music, DJs and shows.

Today we're chatting to Iván Acquista about modern Mediterranean food and the proposal created for Villa Mercedes, one of the few summer stately houses left in the village. It's location opposite the harbour plays a special part in the menu prepared by this Argentinian chef.
Meet Iván Acquista, head chef of Villa Mercedes
Villa Mercedes has entered a new stage: What's it about?
This season, we want people to return to San Antonio to enjoy a fantastic dinner and a great show. That's why Villa Mercedes has been given a makeover. The management has looked for the very best and placed all its trust in the new team. We want it to become an absolute favourite by offering an extraordinary leap in quality and turning Villa Mercedes into a place where people come to purely enjoy the experience.
What encouraged you to accept this project?
I wanted to go my own way, so to speak. In the last few years, I worked at Heart Ibiza and then, after the pandemic, at Cosa Jondal, next to chef Rafa Zafra and my brother, Ricardo Acquista. I've also been opening restaurants in Mallorca, the Netherlands, Madrid, Barcelona... And now I've come over to Villa Mercedes with great hopes for this new project.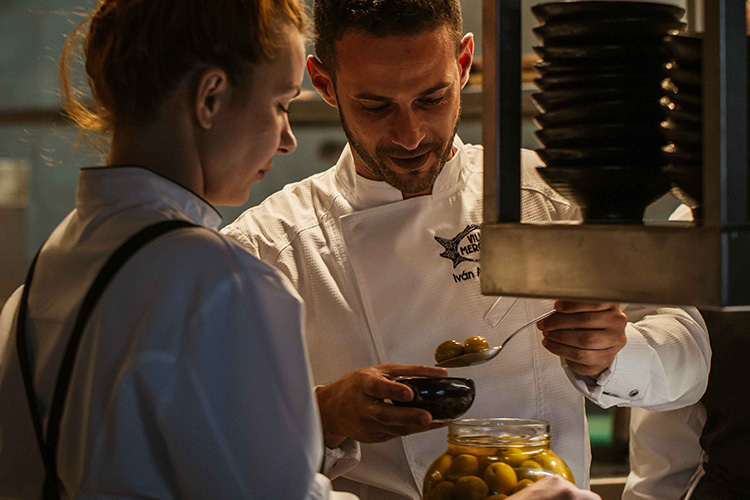 Ivan Acquista, at Villa Mercedes' kitchen. © Luana Failla / Villa Mercedes

What's the new food proposal created for Villa Mercedes?
We've based our proposal on San Antonio harbour, which is on the restaurant's doorstep. We want this to mark its gastronomic identity, offering fresh, top-quality ingredients that are minimally processed, as I learnt from my ex-boss and mentor, Rafa Zafra. For instance, the fish we grill comes from local suppliers and guilds. It's based on modern Mediterranean food but with a few tributes to Ibiza's traditional cuisine too.
Which dishes would you recommend for your first time at Villa Mercedes?
The empanadita de caviar (caviar patty) is one of the dishes I most recommend, as it brings together the flavours of the sea and a memory of my birthplace. This creation makes me think of my mother, because there are always empanadas at home. Of course, I'd also recommend the fish grilled on the Josper grill: John Dory, sea bass, sole... We make fish stock with its juices and serve it with a Bilbao-style sauce.
I'd also suggest the king crab leg seared on the Josper grill or the crayfish with Ibizan frita (sautéed potatoes, peppers and herbs). But if you prefer meat, we have a range of specialities cooked on the Josper grill, such as the chicken in its 30-spice marinade or our suckling lamb chops with Ibizan frita.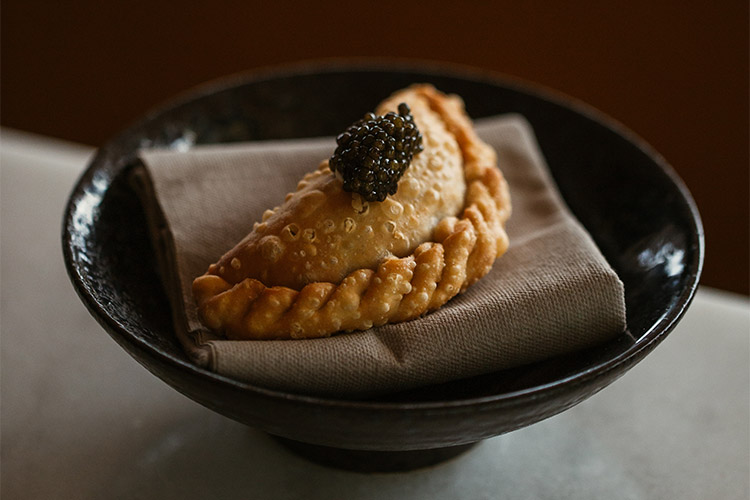 Empanadita de caviar. © Luana Failla / Villa Mercedes
How would your team describe you?
I'd say as someone approachable but strict. As a creative person. I try to provide a friendly atmosphere in the kitchen but we can't forget that we have a demanding journey ahead.

What would you say about yourself?
Above all, I'd say I'm decisive and ambitious (but in a good way).
And lastly, what do you think of the gastronomic developments in San Antonio?
You can clearly see the investments made in the quarter and in the village as a whole. San Antonio is following an exciting path that gives great hopes to all of us who are pursuing that leap in quality.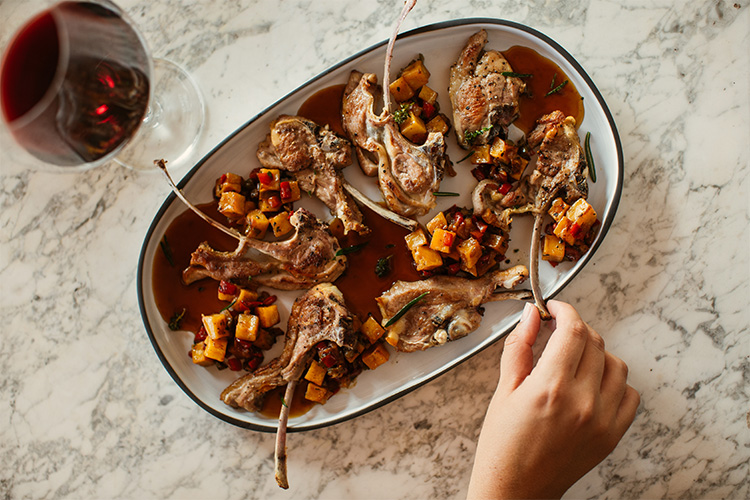 Suckling lamb chops with Ibizan frita. © Luana Failla / Villa Mercedes
Discover Villa Mercedes' new menu first-hand: Book a table!

Don't risk missing out on one of the trendiest restaurants in Ibiza 2023 and book now. You can book from our website (http://www.villamercedesibiza.com/index.php/es/#reservas), calling (+34) 971 348 543 or sending a message by WhatsApp. We look forward to seeing you!
Cover picture: © Luana Failla / Villa Mercedes