Celebrate Sant Bartomeu at Villa Mercedes watching the fireworks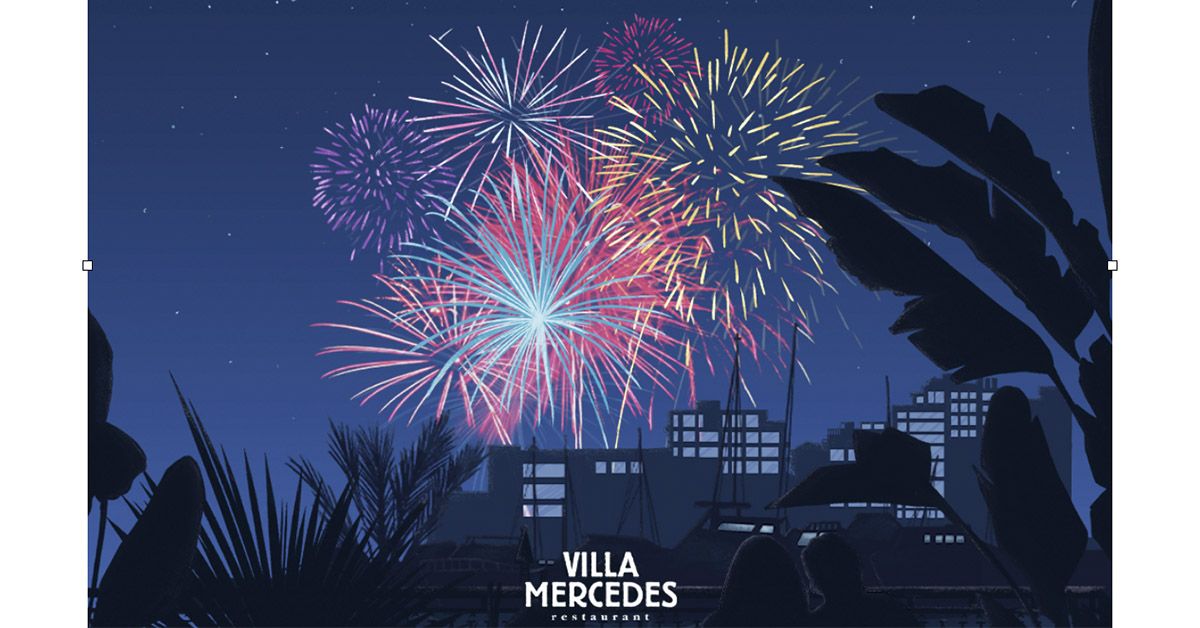 The evening of Sant Bartomeu is one of the most popular festive events in Ibiza, with live shows and glorious fireworks that light up San Antonio bay. Come and have dinner at Villa Mercedes and enjoy this fantastic display from the garden of the most beautiful villa on the promenade. It's the local fiestas! Come celebrate with us!
The perfect place to have dinner and watch the fireworks on the evening of Sant Bartomeu 2023
If you're looking for a special restaurant to have dinner in San Antonio on 24th August, book now a table at Villa Mercedes, a beautiful restaurant with garden opposite the marina in what used to be a holiday villa in the early 20th century. You won't only find pleasant spots to enjoy the carefully prepared modern Mediterranean food, but also a great atmosphere, refreshing and original cocktails and live shows and DJ sessions. The perfect plan while you wait for the fabulous firework display for Sant Bartomeu, at midnight.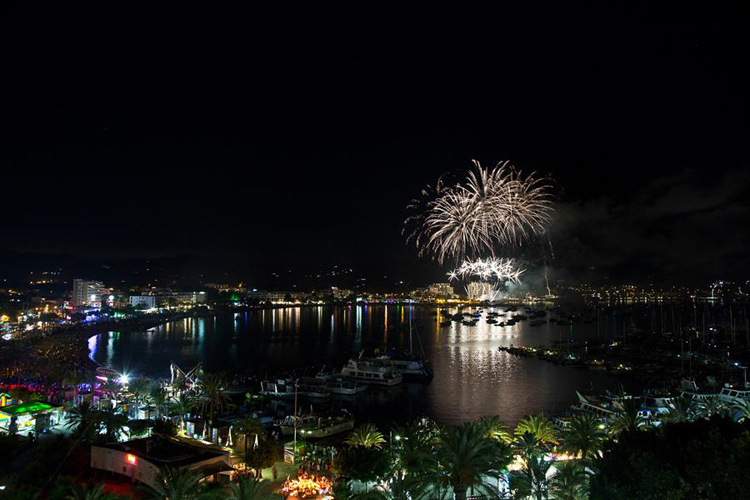 Sant Bartomeu's fireworks. © Visit.santantoni.net
5 suggestions for your Sant Bartomeu dinner in San Antonio
For this festive day, nothing beats our fried empanadita de caviar (caviar patty) and a plate of oysters. These two starters are the perfect choice to set the mood for this festive night, wouldn't you say? And if you'd like to stick to sea flavours, you can order the butterfly-cut anchovies marinated with garlic, parsley and lemon or the clams in green sauce.
For the main course, to celebrate San Antonio's local fiestas, nothing better than the Josper-grilled crayfish with frita ibicenca and the creamy rice with red shrimp. But if you'd rather go for meat on Sant Bartomeu night, we recommend our lamb chops with frita ibicenca.
And for dessert, something to take us back to our happiest childhood summers: strawberries with cream and chocolate. Or what about our matcha cheesecake?
These suggestions are in honour of the traditional Sant Bartomeu fiestas, but you'll find other delicious dishes on our menu for you to choose the food that most tempts you and enjoy a special dinner followed by the fireworks that mark the end of the local fiestas.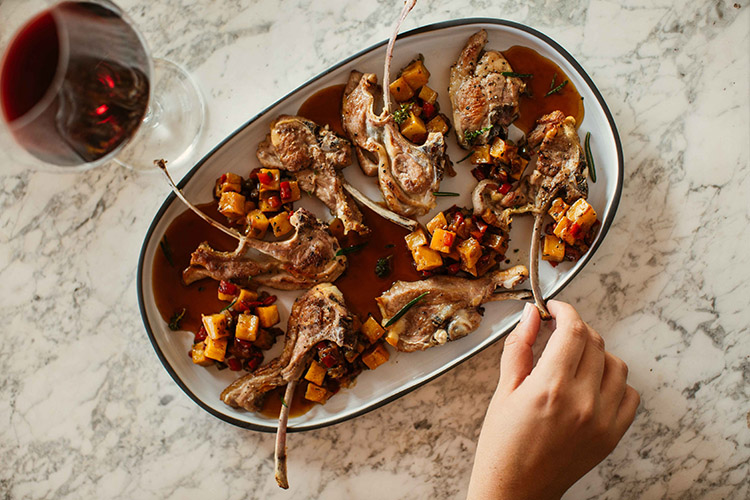 Lamb chops with frita ibicenca. © Luana Failla / VIlla Mercedes
The best cocktails to have before and after the Sant Bartomeu firework display
All our cocktails are perfect for gatherings and celebrations, but if you're looking for suggestions for this special night, we recommend these cocktails with an Ibizan touch for you to raise a glass to the fiestas of Sant Bartomeu with a surprising mix.
Tanit's Moon: this cocktail named after the Phoenician goddess if made with butterfly blue pea flower infused with G-vine, lime juice, syrup and orange.
Micaleta: made with Caleta coffee liquor, this Ibizan-style cocktail also has Mezcal Ojo de Dios, coffee and Liquor 43.
Ibiza Island Ice Tea: this delicious mocktail is prepared with black tea, lemon, syrup and mint.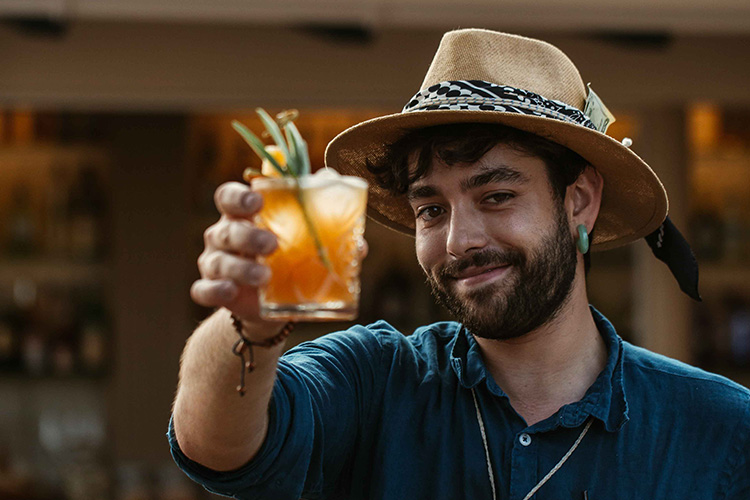 Cheers!. © Luana Failla / Villa Mercedes
Book early for Sant Bartomeu 2023
As it's such an important day in the local fiestas of San Antonio, we recommend you book a table as soon as possible. You can book from our website, calling (+34) 971 348 543 or sending a message by WhatsApp. Remember that the lighting of the firework display for Sant Bartomeu is one of the most anticipated moments in the fiestas and restaurants overlooking the bay are the first choice among residents and holidaymakers to dine with friends, partners or family. See you soon!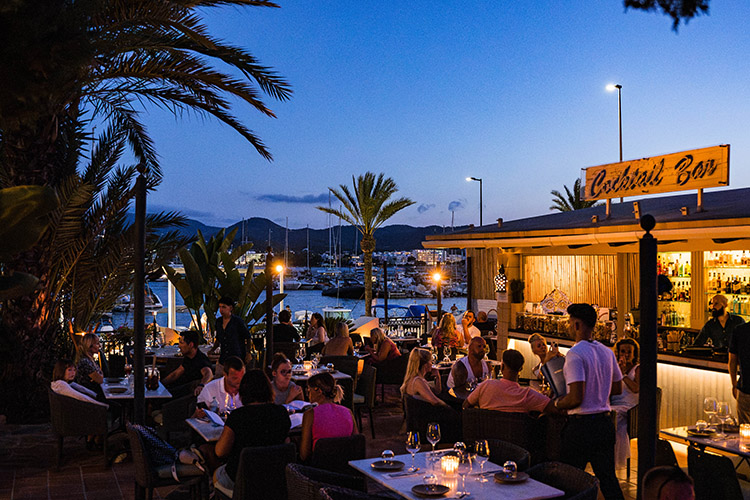 See you at Villa Mercedes! © Angel Camarena / VM